Gustaf Tenggren (1896-1970) began his career as an illustrator for Bland Tomtar och Troll (Among Gromes and Trolls), a well-known Swedish folklore and fairytales annual for children. Tenggren's predecessor was the great Swedish illustrator, John Bauer. John Bauer is a household name in Sweden but Gustaf Tenggren is, surprisingly to me, considerably less well-known, possibly because he moved to America early in his career not returning to his native country. I love John Bauer's highly atmospheric work and his charming detailed illustrations of the Nordic forests and their mysterious inhabitants. Bauer was a highly skilled draughtsman but Tengrren brings something new to the Bland Tomtar och Troll and that its his wonderful use of colour. Tenggren regarded a picture not as a drawing that had to be coloured but as a means of expressing ideas through colour and light.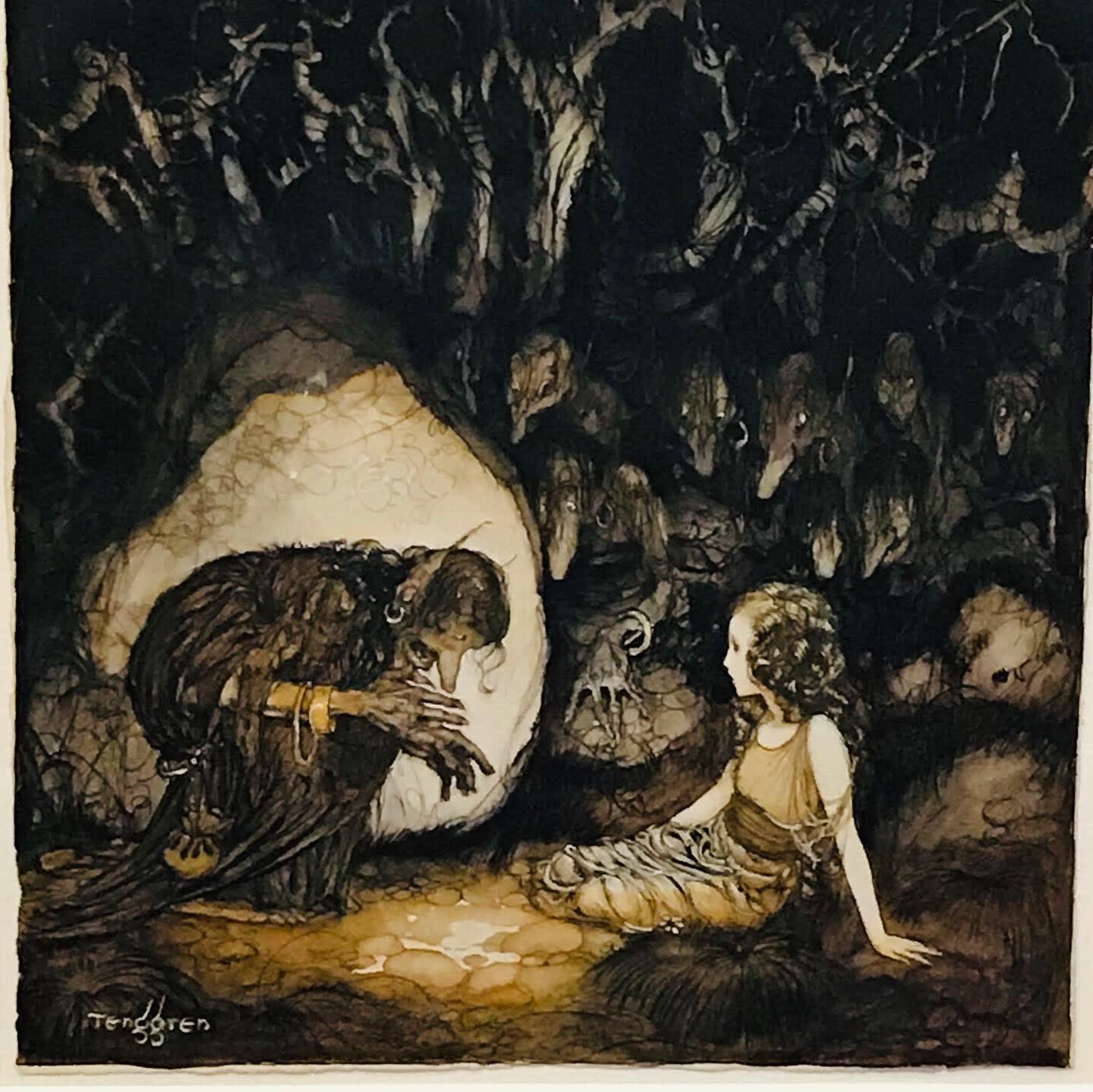 Tenggren moved to America at the age of twenty five and was the chief illustrator for Walt Disney Productions during the late 1930s, widely regarded as the Golden Age of Disney . He worked on Pinocchio, Bambi and Snow White and his drawings with their traditional Scandinavian style buildings and pretty countryside clearly draw on his Swedish heritage. There are not many works from Tenggren's Disney period in the exhibition (I imagine that the Disney corporation are not keen to loan out their precious works)! But the ones that are there have are wonderful. There are some beautiful original watercolours that Tenggren produced for Pinocchioö as well as enjoying them in their own right, one really gains an appreciation for the amount of work that went into these early Disney films. Each second of film was divided into 24 frames and required 16-24 drawings.
After leaving Disney, Tenggren was the illustrator of The Poky Little Puppy, the best selling children's book of the time. Several of these works are included in the exhibition- the style of these drawings is very different- bolder, more naive and far less detailed.
This is a wonderful exhibition for children. Apart from enjoying the drawings and watercolours, there is a shadow puppet theatre where kids can experiment with the concepts of old fashioned movie making. There is also a cosy corner with beanbags where they can curl up and see old Disney films.
It's a great shame that owing to the Covid-19 crisis, this exhibition has had to close for a large proportion of its run. It is well thought out and imaginatively curated and deserves to be well attended. The exhibition is now open to the public and of you who are in Stockholm and are well and able, please go and see it; Gustaf Tenggren, Folk Tales and Disney runs at Millesgården until 31st May 2010.